Student Resources
The Institute for Oral History provides resources and employment opportunities for a wide range of students who seek to learn more about the profession of oral history or use primary source materials in their work. In addition, the Institute is just a fun place to work! We seek to align student workers with their interests when it comes to assignments, and hold at least two celebratory events per year. We hope you will consider us as an avenue in the pursuit of your career goals!
IOH Resources for Undergraduates
The Institute for Oral History has long worked closely with Baylor undergraduate students in processing the oral history interviews in our collection. We are also available to provide instruction and consultation for classroom oral history projects across the disciplines.
Undergraduate Work-Study Positions
Our undergraduate students serve as transcription assistants in the Institute. The transcription assistant serves primarily as transcriber of oral history interviews (includes proofreading) and to enter corrections on transcripts after editing by graduate assistants, interviewers, and interviewees.  They also serve as office assistants on various tasks. Applicants must be proficient in Microsoft Word, Excel, and other Office programs as well as basic internet research.  General office experience desired, and experience with digital audio media a plus.  
The position requires 10-20 hours per week of work. Students interested in this position should contact our administrative associate Dianne Reyes to inquire regarding potential openings for the current and future semesters.
Undergraduate Courses
HIS3300: Methods in Oral and Public History
This course will introduce students to the diverse ways in which history intersects with the public(s) and the role of professional historians (inside and outside the academy) in that relationship. Each student will develop a working definition of what it means to work in public history. For public historians, often the course of "doing" history is very different. The selection of issues and projects usually has little to do with making a unique contribution to a field of the discipline, but rather is determined by the client or audience (which can often be one in the same). Public historians rarely work alone, and oftentimes participate in collaborative projects. Fields like cultural resource management often demand the participation with other disciplines such as anthropology and archaeology. For public historians, it is often a matter of working backward from expected outcomes. The desired outcome informs the questions framed, the research plan, and the rules of evidence. This is true for public historians that work in a variety of settings that will be studied, including historic preservation, heritage tourism, community history, documentary work, museums, historical societies, historical editing, and the state and federal government. Along with exploration of themes, issues, and settings of public history, a major objective of the course will be to familiarize students with the methodology of oral history and practices of interviewing fieldwork research.
HIS 3300 on KWBU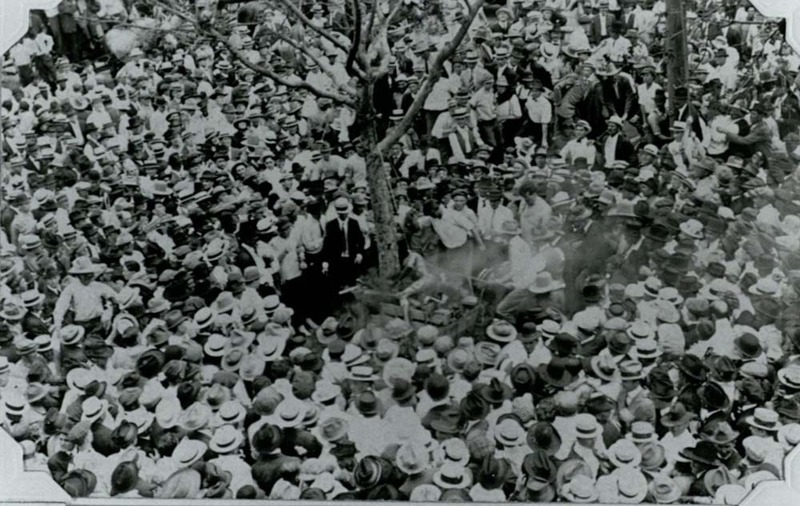 Listen to the radio documentary on the 100th anniversary of "The Waco Horror" the 2016 cohort produced as part of their class project:
HIS3301: Internship in History
Students who successfully complete HIS3300: Methods in Oral and Public History will have the opportunity to complete an internship at an institution or program engaged in public history. As part of this internship, students will develop critical and reflective assessments of their work as it relates to the themes, ideas, and issues dealt with in the methods course. Potential sites for internships are diverse and unlimited. This could include institutions at the local (Waco History, Heart of Texas Regional History Fair, Historic Waco Foundation, Texas Ranger Hall of Fame, Institute for Oral History, etc.) state (Texas Historical Commission, Texas Holocaust and Genocide Commission, Texas State Historical Association, etc.), or national (National Park Service, Oral History Association, Smithsonian, etc.) level.
Undergraduate Research
An important area of our research mission is collaborating with undergraduate students as they carry out their own oral history research initiatives. Students work with the staff of the Institute to create, develop, design, process, and analyze an interview project, significantly enriching the undergraduate research experience. Some examples of undergraduate research projects formed in partnership with the Institute for Oral History are highlighted below:
Baylor junior and University Scholar Emily Messimore was awarded a 2018-2019 Undergraduate Research and Scholarly Achievement [URSA] grant for a research project directed by Dr. Stephen Sloan. Her project, "In the Shadow of The Mountain: Stories from Soldiers in Tay Nihn," works to preserve and present the stories of the Vietnam Veterans of Bravo Company 4/23 of the 25th Infantry Division. As part of the project, Ms. Messimore also received specialized training in conducting oral history interviews with Vietnam War veterans from Dr. Kelly Crager on a research trip to the Vietnam Center and Archive at Texas Tech University. Summer 2018 fieldwork also included an interview research trip to the Mid-Atlantic region where she conducted several oral histories with veterans. Ms. Messimore will present her research at The Society for Military History annual conference at The Ohio State University in May 2019. Long-term goals for her project include compiling a book of stories for the veterans themselves and a more public audience interested in the American experience in the Vietnam War and making a return trip with Bravo Company veterans to Vietnam.
---
Baylor senior and University Scholar Avery C. Lill received a 2015-2016 Undergraduate Research and Scholarly Achievement [URSA] grant for a research project directed by Dr. Stephen Sloan. Titled, "Voices of East Austin: Preserving the Stories of East Austin in the Face of Impending Gentrification," this undergraduate research initiative preserves the stories of people in historically underserved, rapidly gentrifying neighborhoods in East Austin. The researcher has investigated primary and secondary source materials on the topic of US urban gentrification in general and on the eastern side of the state's capital city in particular. Based on the background research, she is conducting oral history interviews with local residents and municipal leaders to document their experiences and their perceptions of the forces of redevelopment in their neighborhoods. The study preserves and highlights the cultural identity of the East Austin community and provides greater understanding and context of the character of Austin as a whole. Through the stories of its residents, the study will reveal what is at stake as the area is transformed. Ms. Lill will present an original paper based on her research at the annual meeting of the Southwestern Social Science Association [SSSA] in Las Vegas, Nevada, in March 2016, and also will develop a short, three- to five-minute, human interest audio documentary suitable for public radio.
---
Jillian Buttecali, a junior, pre-business major, received a 2010-2011 Undergraduate Research and Scholarly Achievement [URSA] grant for a project titled "A Better Hometown: Universalizing the Structure of Incorporated Towns and Townships." Through oral history research, Ms. Buttecali explored the challenges faced by incorporated townships in Texas, most notably urban crime, urban government disconnect, and socioeconomic isolation. Under the mentorship of Dr. Stephen Sloan, she interviewed community leaders in Houston and federal officials in Washington and made a presentation at the SSSA Annual Meeting in Las Vegas, Nevada, in March 2011.
IOH Resources for Graduate Students
Graduate Seminar in Oral History
Baylor University students qualifying for participation in graduate-level courses may take HIS 5367 (cross-listed as AMS 5367), Seminar in Oral History. Taught by Dr. Stephen Sloan, Associate Professor of History and the Director of the Institute for Oral History, the seminar investigates the literature and methods of recent oral history, with emphasis on the practical application of oral history methodology to research projects in multidisciplinary fields.
Graduate Assistantships
Baylor University graduate students may apply for annual graduate assistantships in the Institute for Oral History. Applications are accepted in the spring for the academic year beginning the following summer. 

As assistants in oral history, graduate students learn the principles of oral history interviewing, editing, and archiving. They participate in the research of the Institute by editing the transcripts prepared by undergraduate transcribers, helping to create and maintain the digital archives of the Institute's document and audio collection, assisting faculty members with preparation for interviews, and occasionally by conducting field interviews.
Here are the current job descriptions of the two positions we offer:
All Institute for Oral History graduate assistants usually work fifteen hours per week in our office suite on the third floor of Carroll Library. The assistantships offer a biweekly stipend. All students applying for assistantships in the Institute must be enrolled in the Baylor University Graduate School. For more information, e-mail the Institute; or phone 254.710.3437
2022-2023 Assistantships
Check back in February for any possible vacancies/additions for the 2022-23 academic year!